What is your name or nickname?
Shaun Wong
Why and when did you start collecting?
1999. I watched Star Wars Episode 1 and thought it'd be cool to re-enact the light saber battles with 3 3/4 figures. Prior to that, I was into music CDs.
What do you collect and why?
I currently collect figures based on comics, cartoons and movies, cos it's fun to own 3D incarnations of the characters that I like.
How many pieces are in your collection?
Probably just over 300 items. I haven't counted them in a while.
How and when did you begin displaying your collection?
I started displaying my stuff in a room that I shared with my brother. Thankfully, he never complained for the best part of seven years. It was very messy and much of a fire hazard.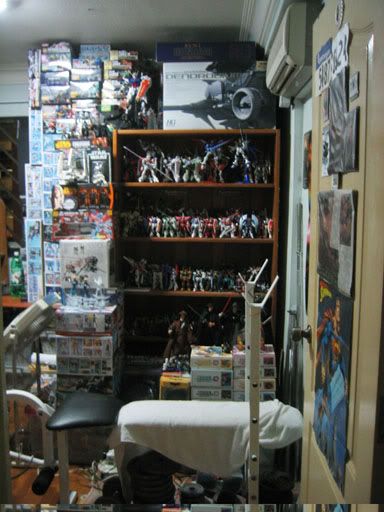 When I got my own place, I had the freedom of deciding how to best utilise the display space.
Where do you purchase most of your collection, online or at local stores?
I purchase most of my items from local stores. Fortunately, my fave toy store is a five minute walk from my office, as is my favourite comic store.
What is your favorite piece and why?
At the moment it's Hot Toys Terminator Endoskeleton. It's really an engineering marvel for an action figure. It should be credited for really getting me into 1:6 scale figures.
Do you keep your stuff sealed or take them out of the package?
I open all of them cos toys are meant to be played with. I don't buy extras, unless it's figures that I really like.
What influences your collection?
Cool movies, comics and cartoons. These days I try to stick to one scale of figures, namely 1:6, as I think they look really good on the shelves.


I do make an exception for Transformers though, as their figures' aesthetic and articulation are improving by quite a bit.


Are there any pieces you own that were hard to find or rare?
Nope, all are pretty mass market items. I don't have the budget to go into big ticket items.
What type of reaction do you get from people when they see your collection?
I get mixed reactions from people, which range from admiration to scorn, but it's all part of a collector's life.
My parents didn't approve of it, till they saw some good come out of it when I lent some items from my collection to a local museum for an exhibition.


My wife is supportive as long as I don't spend money on sex, drugs and rock and roll and she even lets me have my own room to display my stuff.
Have you insured your collection or thought about it?
I have thought about it and I read that a rider can be purchased together with your home insurance policy. I need to seriously look into that.
If you could add anything to your collection what would it be?
A 1:6 Scale Christopher Reeve Superman/Clark Kent, sculpted by Hot Toys. They've pulled of a Brandon Routh Superman/Clark Kent, but I think the likeness can be improved on that piece.
Do you see yourself still collecting 5, 10, 20 years from now?
Probably, but I've already started to slow down quite abit.
Do you have any recommendations to those who are new to collecting?
Be selective in what you collect.